Tokina 28-70mm f/2.6-2.8 AT-X Pro II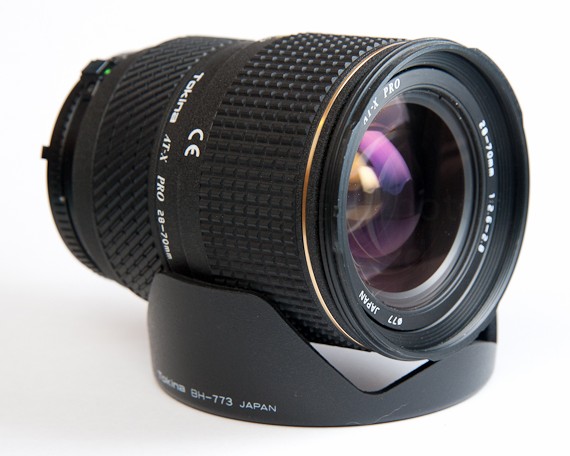 I have heard so many good things about the Tokina 28-70mm f/2.8 AT-X Pro and Pro II lenses, that I had to try one out. Does this lens stand up to its legendary hype?
Build and Handling
The Tokina is built like a professional lens. It is made mostly of metal. The zoom and manual focus rings feel high quality, but the grip texture is slightly rough and pokey (not terribly comfortable and will attract dirt. The pro II version has a bayonet hood that is a nice addition, but I do suggest getting a 77mm center pinch grip cap instead of the edge pinch cap that is standard.
The lens comprises 16 elements in 12 groups. The lens is dense, weighing in at about: 28 oz. (790g) with the hood but no caps. Minimum focus is 0.7m or 2.5 ft. The diaphragm consists of 8 blades.
The Tokina uses screw drive focus, so it won't work with handicapped bodies. Manual to auto focus is using a sliding ring, which has to be lined up at the correct spot to engage. Consider it autofocus only or manual focus only; don't expect to be able to easily tweak the focus manually after autofocus locks.
This lens has reached legendary status with many photographers, but the question remains, how does the lens perform on FX? Read the next page to find out.