Nikkor 85mm f/1.8D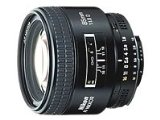 Performance
What surprised me about this lens is that it looks like it will be an excellent all purpose lens, and not only for portraits. The center is sharp even from f/1.8, but becomes very good to excellent by f/2.8, and doesn't let up until above f/11. What shocked me was that the corners were nearly as sharp as the center throughout the range.
Lateral CA and distortion are non-issues. I haven't tested flare with this lens, but I imagine it isn't great (as typical with large aperture lenses of this focal length). Use the included hood. I will attempt to upload some flare shots if I get a chance.
Strengths
Weaknesses
Straight bladed aperture if stopped down (bad for specular highlights)
Bottom Line
This lens performs well on a full frame camera, and it should be considered a fantastic general purpose and portraiture lens at a bargain price. This lens performs better than lenses costing much more. If you like primes, and want an affordable lens that doesn't hold back on performance, this lens should be in your bag.
Thanks to flickr user Fargo41 for loaning me this lens to test: Fargo41 on Flickr
Buy this lens on Adorama to help support the site! I won't post too many samples from this lens, as there are plenty to be found on the web. I wanted to review it to see what kind of numbers the D700 should put up on my test charts.
The gallery images are © 2011 Eric Tastad, and may only be used for personal evaluation of the lenses. The images were exported from Lightroom 3 with my default processing settings. For lens resolution data I have it set at the normal LR2 default of 25.