Tokina SD 16-28mm f/2.8 IF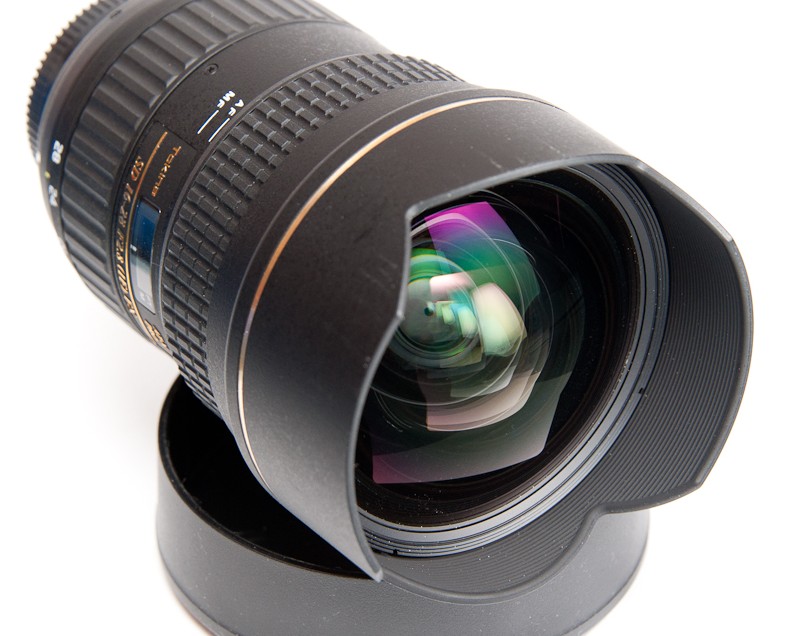 With the huge success of the Nikkor 14-24mm f/2.8, it was only a matter of time before a third party manufacturer responded with something similar. Enter the new Tokina SD 16-28mm f/2.8 IF FX lens. The question is, does it stand up to the Nikkor?
Build and Handling
The Tokina is built like a professional lens. It is made of high quality textured plastics and metal. The zoom and manual focus rings feel high quality, but my zoom ring was a tad stiff for the first few uses. The new lens cap is much improved over the original (if you have the original, contact the Tokina distributor in your country and they should send you a new cap).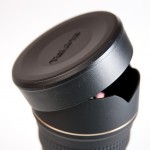 The lens comprises 15 elements in 13 groups and has 3 aspherical and 3 SD elements as well. The lens does not take filters (as typical for a lens with a protruding front element). The lens is very dense, weighing in at just over two pounds: 33.51 oz. (950g).
An important distinction between this lens and the APS-C only 11-16mm f/2.8, is that this lens can focus significantly closer at 11″ (0.28m) with a 1:5.26 magnification ratio, vs the 11-16mm that is only 11.8″ (0.3m) but only 1:11.6 magnification ratio. The Tokina 16-28mm has the same minimum focus as the Nikkor 14-24mm, but slightly higher magnification ratio due to the longer focal length on the Tokina.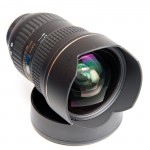 The Tokina utilizes a new DC brushless motor system that promises fast and silent AF. The focus is fast and accurate, but not totally silent. It is quieter than the screw drive, but louder than some motor lenses I have heard. Overall it does look like a promising new technology. The lens does not have Manual/Auto (like quick-shift or full time manual) focus as implied by their product page, but rather a sliding ring that pulls towards the camera with a loud thunk that will certainly disturb the last focus point. So consider it autofocus only or manual focus only; don't expect to be able to easily tweak the focus manually after autofocus locks.
This lens has a large f/2.8 aperture, and on an APS-C camera you would need an 11-19mm f/1.8 lens to get equivalent pictures to this lens mounted on an FX camera. To get the most from this lens, use it on a full frame camera. If you want this focal range on APS-C, get a Nikon 17-55 f/2.8 or one of the many other similar 3rd party lenses. So the question remains, how does the lens perform on FX? Read the next page to find out.