SMC Pentax DA 35mm f/2.4 AL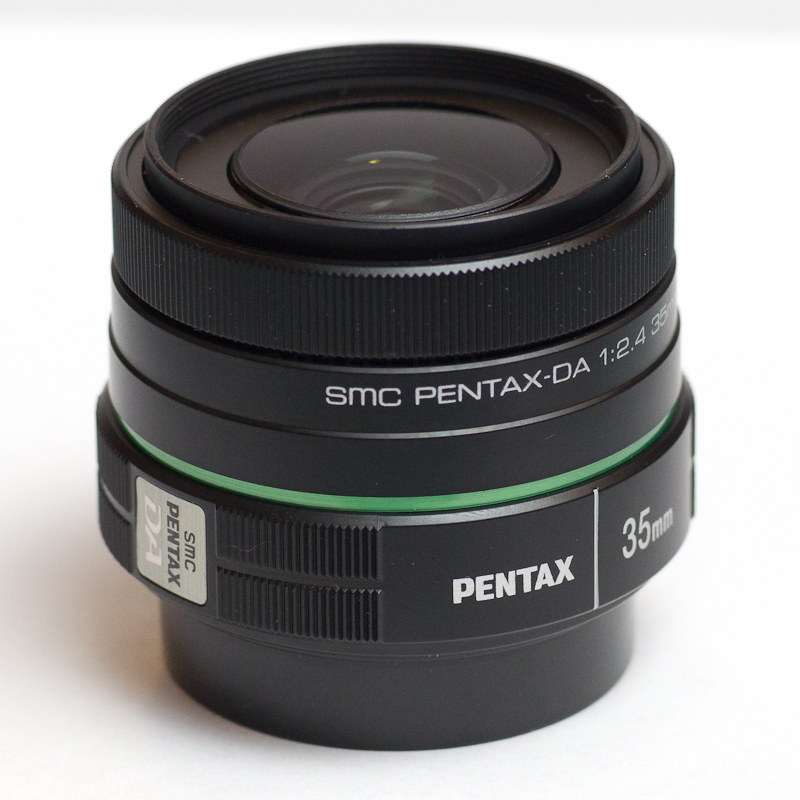 Performance
The first thing I will say about this lens is that it looks like it will be an excellent all purpose lens. It is very good resolution at all apertures, even in the corners, but is excellent across the entire frame from f/4 to f/8. The biggest strength of this lens over any of the zoom competition will be corner strength over shared apertures, where the zooms tend not to be as good.
Distortion is noticeable at -0.8% (barrel distortion), but not an issue for most applications. CA is minimal, peaking at about 1 pixel on the 16.3MP sensor.
An interesting note is that the corners are not as sharp on the K-7 as they are on the K-5. Not sure if this is due to the sensor or possibly processing on the RAW data. I am curious to see if this holds true for other lenses.
Strengths
Weaknesses
Plastic build
No included hood or bag
Smaller aperture vs competition for same price
Bottom Line
The Pentax 35mm is a great lens that compliments any standard zoom. The aperture is large enough to be advantageous. It offers at least a half stop over an f/2.8 zoom, and in reality probably closer to an f/stop given the fewer lens elements. The lens is bright at f/2.4, where most zoom lenses lose significant contrast wide open. Focus is fast and accurate (one of the faster lenses I have used), taking only a fraction of a second to lock in most cases, min to infinity to min is about 1 second or less.
This lens performs nearly as well as lenses costing much more, and I see why Pentax limited the aperture to f/2.4. They wouldn't want to compete with their other products. The price is fine, and so is the lens. I recommend this lens to anyone looking at the Pentax system. It is great for people of all experience levels. It should be called the Pentax DA 35mm f/2.4 AL [un]limited.
Buy this lens on Adorama to help support the site! Pictures to follow in a few days once the weather clears out and I can get some clear skies.
The gallery images are © 2010 Eric Tastad, and may only be used for personal evaluation of the lenses. The images were exported from Lightroom 3 with my default processing settings. My default settings for the K-5 are mostly the same as Lightroom 3 default, but I do set sharpening at 50, Radius 1, Detail 50, Masking 50. For lens resolution data I have it set at the normal LR2 default of 25, so these will appear sharper than the data would imply.