Comparison: ZEISS 12mm vs Fuji 14mm vs 16-50mm on X-A1
How do the 3 Ultrawide lenses compare? Are the primes worth more than the zoom?

My opinion is the center of all 3 lenses are about the same and good at all apertures. The Fuji and Zeiss have preferable contrast to the 16-50mm, but not by much. The corners show the strengths of the primes, and the fact the 16-50mm is being corrected for about 6 of 8% barrel distortion. Without the correction the cheap zoom is just as sharp in the corners and actually the same diagonal field of view as the Fuji 14mm.
The primes are definitely better overall than the 16-50mm, but you get 80 or 90% with the cheap zoom. This is typical with any pro quality lens. You pay 3 or 4x as much to get that last 20% performance. I am getting another 16-50mm to test with an X-M1, so will compare that to my existing 16-50mm which is decentered and has a softer edge at large apertures.
The first show the field of view difference, and also add spacer to get down past the ads on the right 😉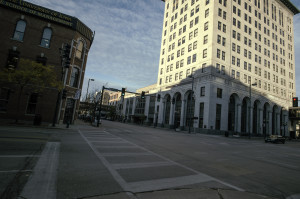 Zeiss 12mm, dcraw, uncorrected, Lightroom Sharpen, "punch", Shadows
Fuji 14mm, dcraw, uncorrected, Lightroom Sharpen, "punch", Shadows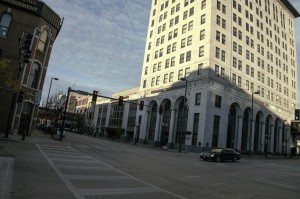 Fuji 16mm, dcraw, uncorrected, Lightroom Sharpen, "punch", Shadows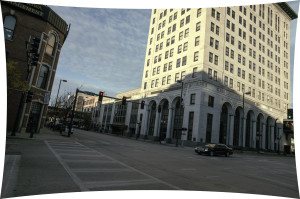 Fuji 16mm, dcraw, corrected TIFF in Lightroom, Sharpen, "punch", Shadows
BHPhoto: Fujifilm XF 14mm f/2.8 R Ultra Wide-Angle Lens
Amazon: Fujifilm XF 14mm F2.8 Lens Wide Angle Lens
BHPhoto: Zeiss Touit 12mm f/2.8 Lens (Fujifilm X-Mount)
Amazon: Zeiss 12mm f/2.8 Touit Series for Fujifilm X Series Cameras
The 16-50mm is a review sample from Amazon Vine and Fuji, please support by buying through Amazon: Fujifilm X-A1 Kit with 16-50mm Lens (Black)
Rental costs come out of my pocket, so if you want to donate to your lens buying obsession and help me rent lenses please consider donating, it is about $50 a lens to rent.
Here is the dreaded pixel peeping comparison of the three lenses for Fuji X-A1. For the overall shots, click on the image for the full size version. I also display some near 100% crops. The Fuji shot at f/2.8 appears to have a bit of motion blur, probably from me pressing the shutter. I was trying to be exceptionally careful, but the Fuji camera is kind enough (sarcasm) to turn off the 2 second shutter delay every time you change lenses (or the camera powers off).
Scroll to the right to see the 16-50mm ———–>>>>>>>>>>>>
| ZEISS 12mm | Fuji 14mm | Fuji 16-50mm |
| --- | --- | --- |
| | | |
| ZEISS 12/2.8 | Fuji 14/2.8 | Fuji 16/3.5 |
| | | |
| ZEISS 12/2.8 Center | Fuji 14/2.8 Center (shutter shock or something causing some blur) | Fuji 16/3.5 Center |
| | | |
| ZEISS 12/2.8 Upper Right | Fuji 14/2.8 Upper Right (shutter shock or something causing some blur) | Fuji 16/3.5 Upper Right |
| | | |
| ZEISS 12/4 Middle Right | Fuji 14/4 Middle Right | Fuji 16/3.5 Middle Right |
| | | |
| ZEISS 12/4 | Fuji 14/4 | Fuji 16/3.5 |
| | | |
| ZEISS 12/4 Center | Fuji 14/4 Center | Fuji 16/3.5 Center |
| | | |
| ZEISS 12/4 Upper Left | Fuji 14/4 Upper Left | Fuji 16/3.5 Upper Left |
| | | |
| ZEISS 12/4 Middle Right | Fuji 14/4 Middle Right | Fuji 16/3.5 Middle Right |
| | | |
| ZEISS 12/5.6 | Fuji 14/5.6 | Fuji 16/5.6 |
| | | |
| ZEISS 12/5.6 Center | Fuji 14/5.6 Center | Fuji 16/5.6 Center |
| | | |
| ZEISS 12/5.6 Upper Left | Fuji 14/5.6 Upper Left | Fuji 16/5.6 Upper Left |
| | | |
| ZEISS 12/5.6 Middle Right | Fuji 14/5.6 Middle Right | Fuji 16/5.6 Middle Right |
| | | |
| ZEISS 12/8 | Fuji 14/8 | Fuji 16/8 |
| | | |
| ZEISS 12/8 Center | Fuji 14/8 Center | Fuji 16/8 Center |
| | | |
| ZEISS 12/8 Upper Left | Fuji 14/8 Upper Left | Fuji 16/8 Upper Left |
| | | |
| ZEISS 12/8 Middle Right | Fuji 14/8 Middle Right | Fuji 16/8 Middle Right |
Some other shots: