3 of a Kind: Fuji X-A1, Sony NEX 3N, and Samsung NX300

Mirrorless cameras are arriving like tribbles, and here are 3 of the APS-C sensor models. Which one do I like best?
Samsung was an early player in the mirrorless foray, but has struggled to gain traction. I think the NX300 is their first NX product that really feels like a finished production model. It has a large 3.3″ touch screen that flips up or down, a hot shoe that will work with ISO standard flashes or proprietary Samsung units. Metz also makes an 44 AF-1 flash which is probably the best flash for the system. Packing a modern 20 MP sensor, it is no slouch even combined with the 18-55mm zoom.
The NEX 3N is the lightweight of the bunch. It has a tiny collapsable 16-50mm lens and a light weight body. What it gives up in body size it doesn't give up in sensor, with its excellent 16 MP sensor. It has a built in flash that can manually be pulled back to act as a low powered bounce flash, but lacks a hot shoe.
Rounding out the list is the new comer, the Fuji X-A1. Fuji's first "normal" sensor for some time, it is a well featured entry level model with many controls. It packs the same 16 MP sensor as the Sony and also comes with a nice 16-50mm lens and has a nice flip out screen. It has both an ISO standard hot shoe and a built in flash like the Sony that can manually be pulled back to act as a low power bounce flash in a small room.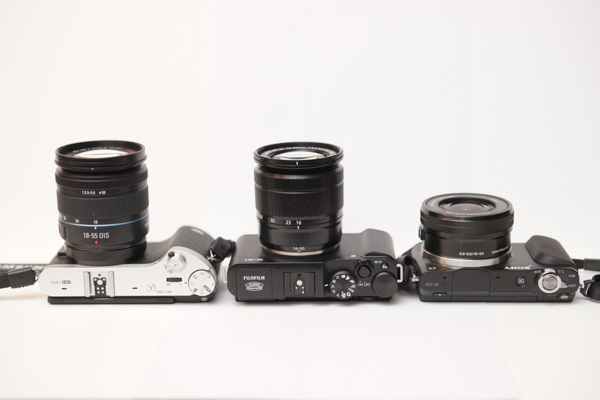 Lining up the three we can really see how small the Sony is, and the other two are pretty similar, and a few more follow, a couple have the Sony with the 18-55mm for comparison purposes: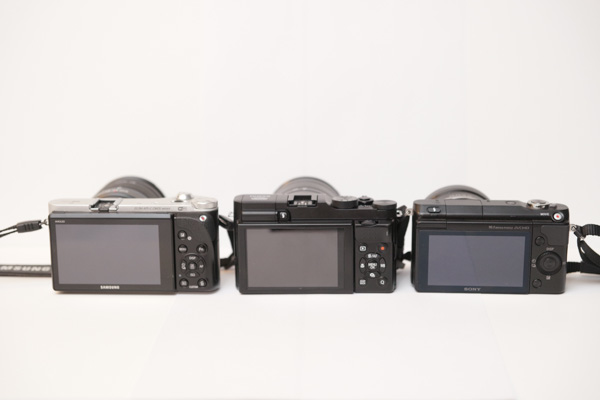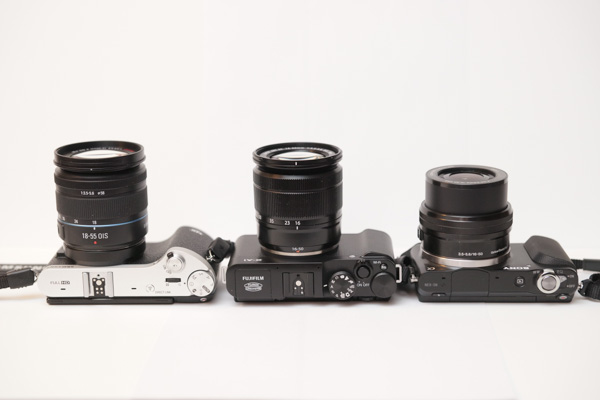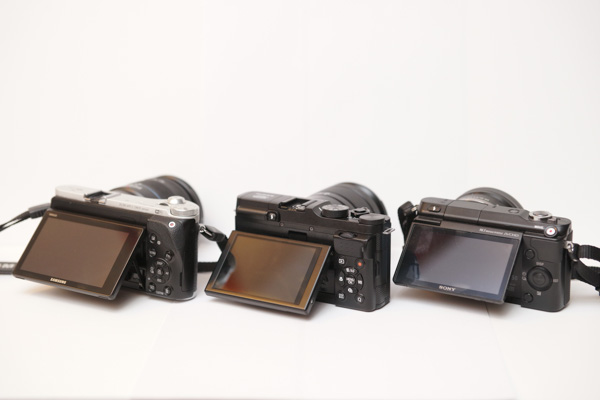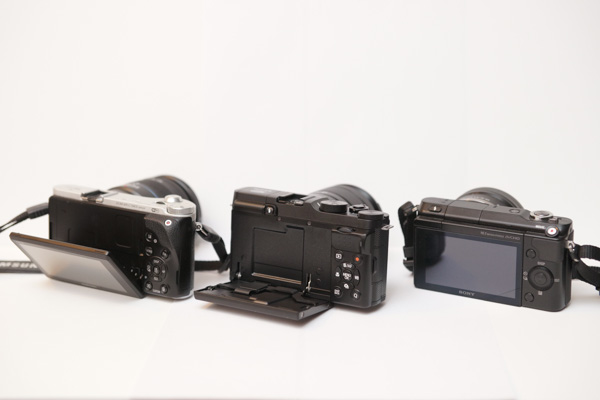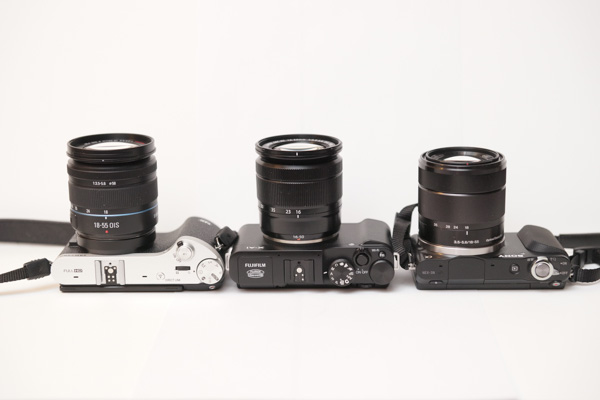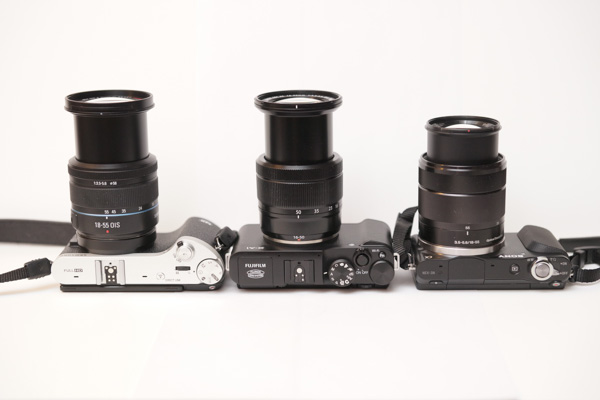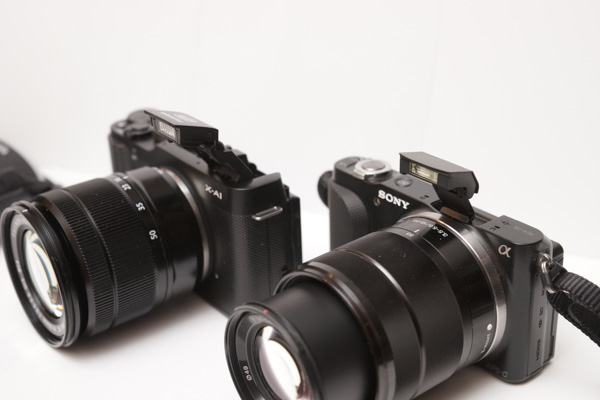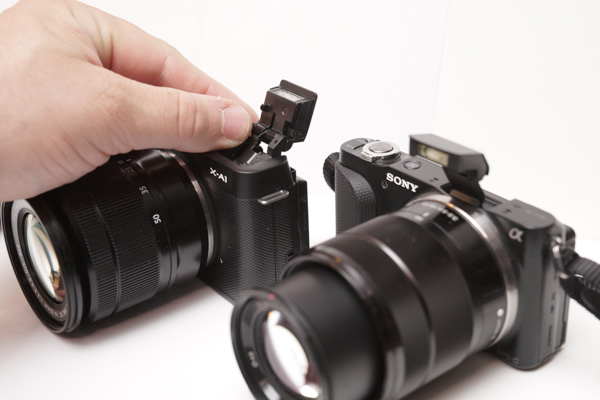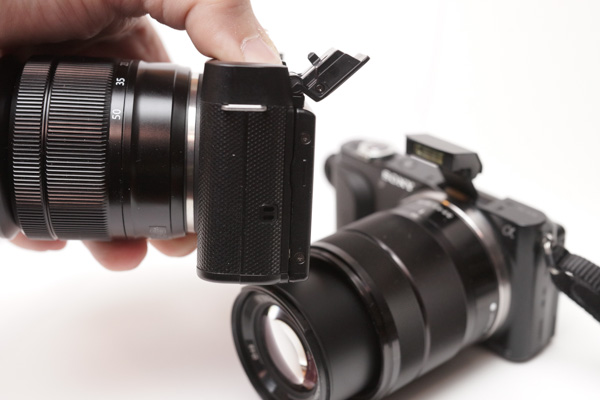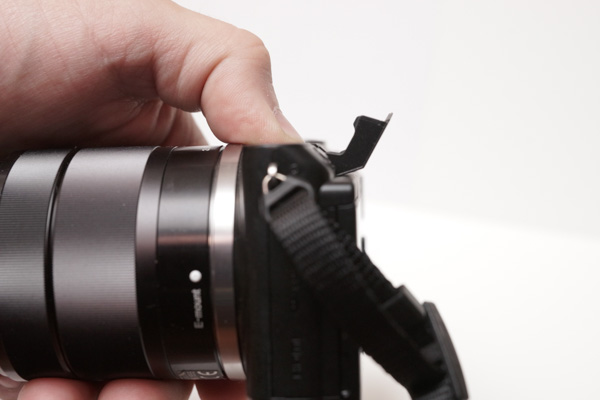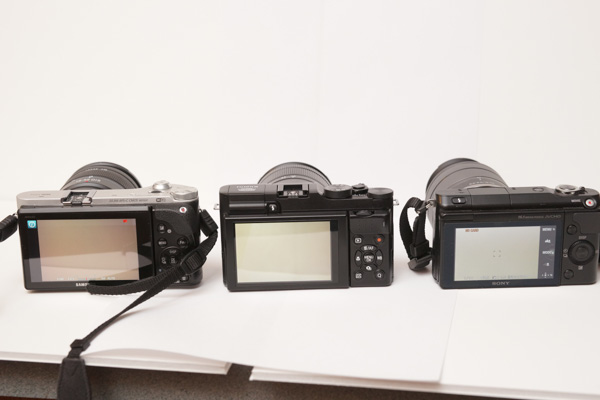 As you can see, the Sony screen only flips up, not down, since it is hinged at the top. The Sony has a much smaller 16×9 screen, and the Samsung and Fuji both have larger not as wide of aspect screens which also are a lot higher resolution. The Samsung is the only one of the bunch with a touch screen making menu diving, focus point selection, and changing settings a breeze.
So how do all these lenses perform? Fuji has been making some excellent image quality lenses, so does the cheap plastic mount 16-50mm with mostly plastic barrel construction live up to the Fuji X quality?
To test the cameras I used all on a tripod with 2 second delay. I set the cameras to f/7.1, base ISO and 1/320 or 1/160 shutter speed. Why 7.1 you ask? These are kit lenses, not really meant for wide open shooting (see my individual lens tests for that). Kit lenses are great when you want to shoot in good light and keep size small while maintaining a good range. An aperture of f/7.1 will not be diffraction limited for any of these cameras. I focused in the corner because these lenses, especially the Sony, have significant field curvature. I only show the corner I focused, this is the best it is going to get. Center comparisons aren't as important at wide angles, all these lenses are plenty sharp in the center at wider angles. I sharpened all to what I felt I would do if I were using the images for something. The Sony needed a more sharpening to get where it is at now relative to the other two.
Overall Shot, this was focused in the corner by the construction workers. This shot is from the Fuji, but all are similar.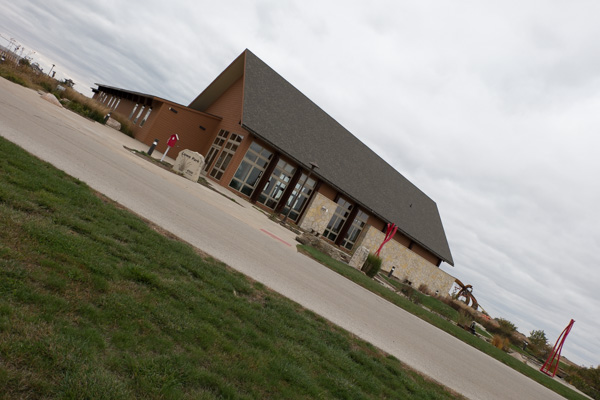 Samsung – 18mm – f/7.1 – 1/160 – ISO 100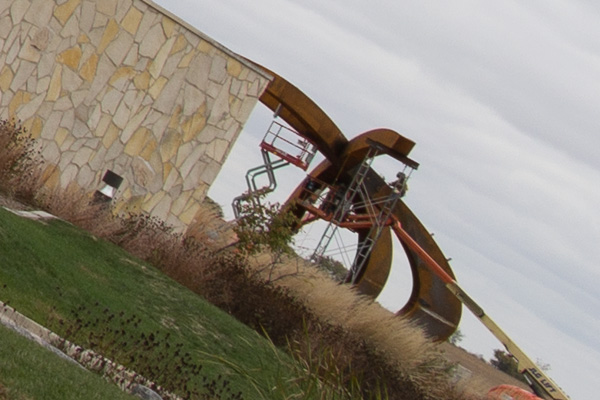 Fuji – 16mm – f/7.1 – 1/320 – ISO 200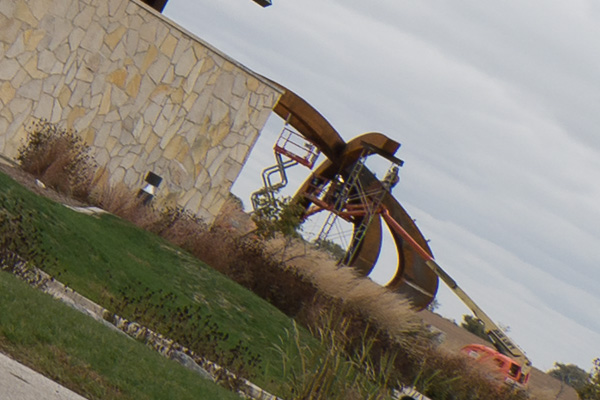 Sony – 16mm (corrected) – f/7.1 – 1/320 – ISO 200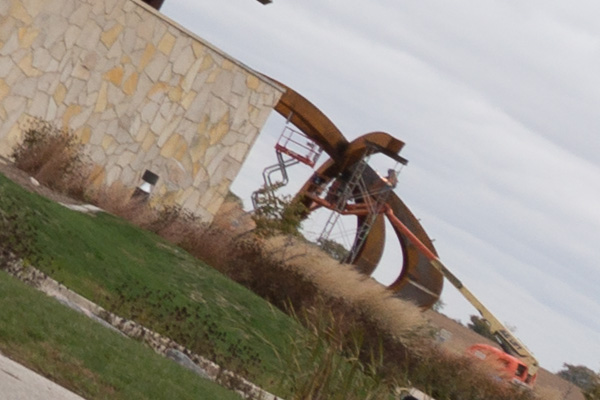 As you can see, the Sony isn't very good in the corner even at f/7.1. This is why I call it a 20-50mm lens.
Now at about 35mm:
Samsung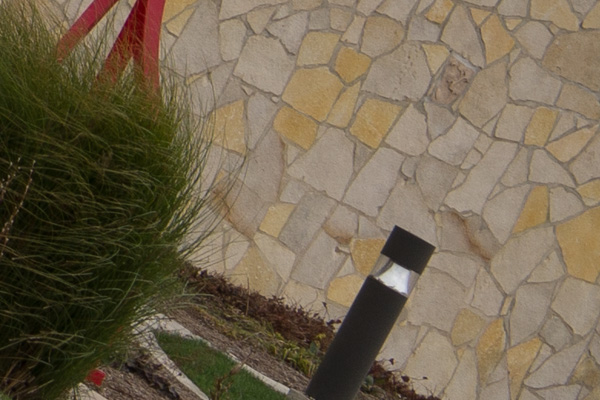 Fuji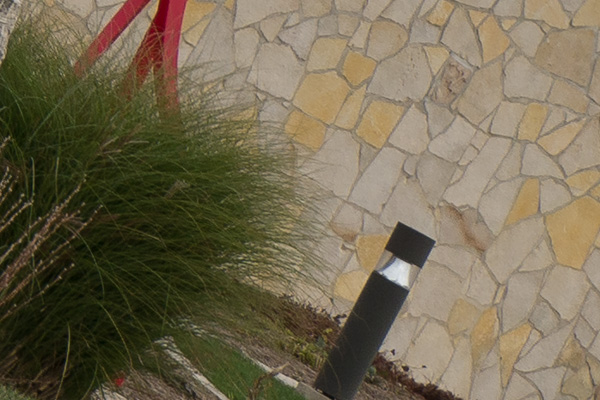 Sony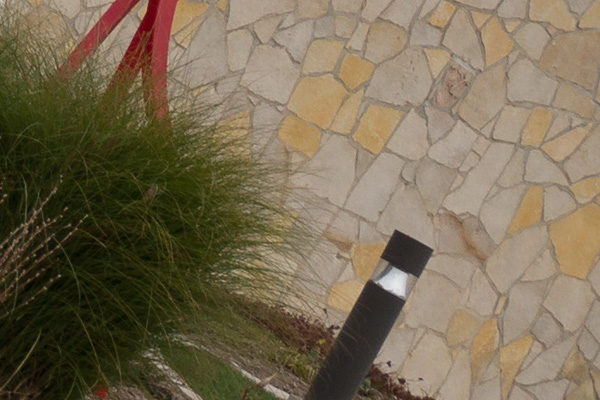 And finally at 55 to 50mm:
Samsung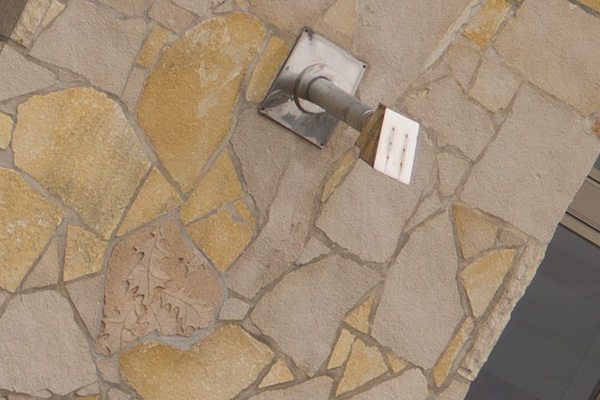 Fuji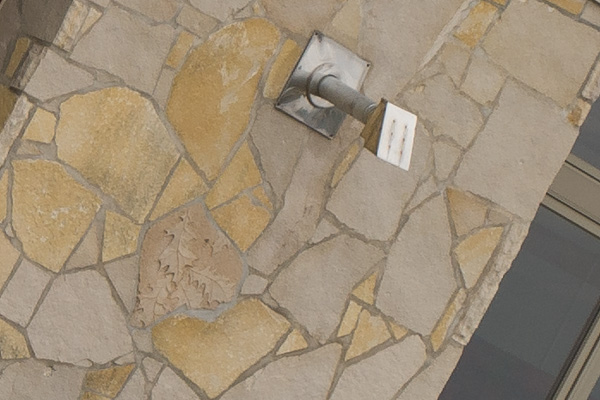 Sony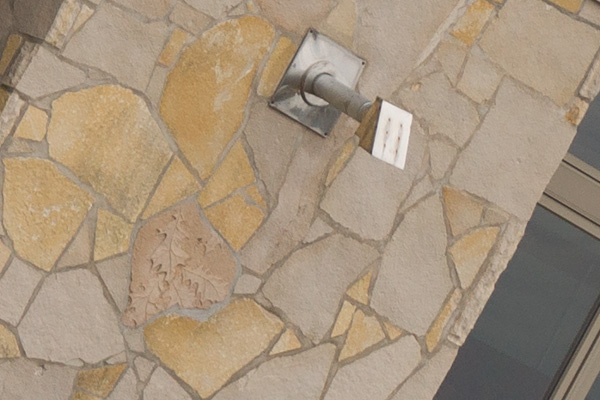 And here is one with the Shadows pushed up to +100 and the highlights pulled to -100:
Samsung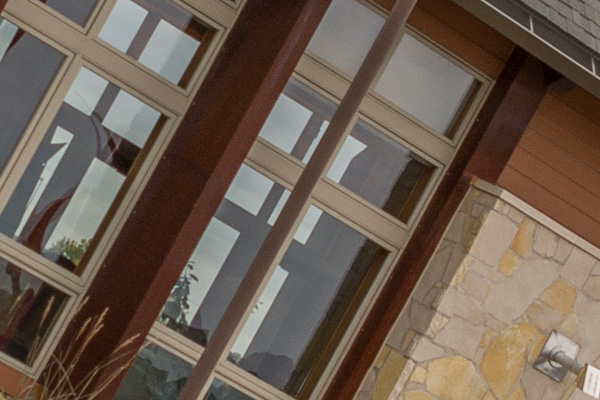 Fuji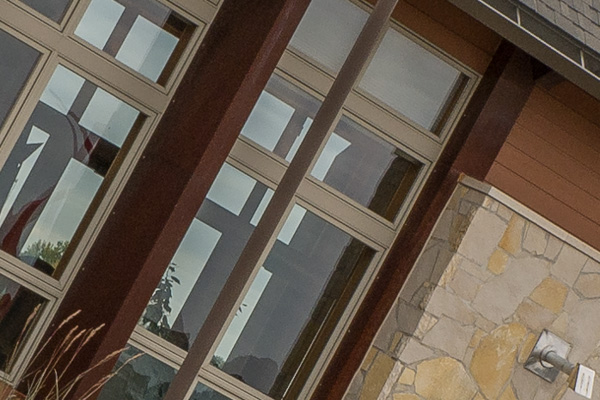 Sony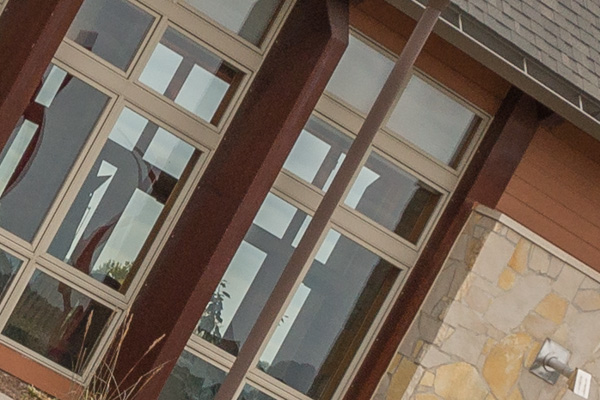 Here is what I think. The Sony lens is a fine 20-50mm lens, but is still a step behind the other two. Not a lot, but what it gives up for in image quality it gains in small lens size. The Fuji has a sweet lens, even at 16mm. It is pretty sharp corner to corner at all focal lengths and f/7.1. The Samsung is a bit weaker in the corners at 18mm than the Fuji is at 16mm, but its extra resolution gives it a little edge in texture definition through most of the rest of the range and the lens is no slouch either. Better than many kit lenses including the Sony 18-55mm.
For sensor dynamic range (push/pulling the shadows and highlights) all the sensors are comparable. The Fuji relies on push processing and underexposes the RAW by about 1/3 stop relative to the other two cameras for the exact same camera settings in Manual. This means you have to watch comparisons that use auto exposure modes that the Fuji doesn't pick a longer shutter speed then the competitors (giving an unfair advantage). I corrected this 1/3 stop exposure in Lightroom to make it so the image was about the same brightness. So they are a draw for sensor quality (DXOMark confirms this as well, the Sony scores 74 and Samsung 76, which is an insignificant difference). All are very good APS-C sensors.
So the bottom line is the winner of this competition is based on lens quality and body features. This eliminates the Sony since it has no hot shoe, lowest res and smallest rear screen, least buttons for direct control, and not significantly cheaper. I think the 5T would have been a better candidate with this group, but I don't have that camera. The 3N is an okay camera, but I always recommend people either buy a good point and shoot (RX100, etc) or upgrade to a 5 if possible, even if it means going used 5N.
Down to the Fuji X-A1 and the Samsung NX300, I am going to call it a draw. Both systems have a great selection of high image quality lenses. The Samsung has an edge with the touch screen display, but the Fuji has some great features like pressing and holding the Q button to gain the LCD brightness for shooting in the sun, and the kit lens included is very good image quality, but alas no better build quality than the Samsung, which both are sub-average with tight zoom and plastic mount (The later Samsung models have a metal mount).
The winner depends on use. I would recommend the Samsung for everyday shooting with its faster focus, better overall features, but the Fuji is a bit better setup for dealing with legacy lenses with excellent focus peaking (Samsung has this too, but not as easy to use), and shorter flange mount which will work with rangefinder lenses. All 3 are excellent cameras, and the X-A1 gives up [arguably] nothing in image quality over the more expensive X series models that use the X Trans sensor.
Clearly this one test doesn't represent overall use of the cameras, I could spend weeks giving comparisons on these 3.
This site is run entirely on my free time and it has cost me a lot more to run it than I have made off of it. So please feel free to use affiliate links to purchase products, since 2 of these 3 cameras are on permanent loan to me from Amazon Vine and their respective manufacturers, I recommend buying through Amazon:
Fujifilm X-A1 Kit with 16-50mm Lens (Black)

Sony NEX-3NL/B Compact Interchangeable Lens Digital Camera Kit (Black)

Samsung NX EV-NX300ZBSTUS Wireless SMART Digital Camera 20.3MP Compact System Camera with 3.3-Inch AMOLED- with 18-55mm OIS Lens (Black)