M.Zuiko ED 14-42mm f/3.5-5.6 Micro 4/3 Kit Lens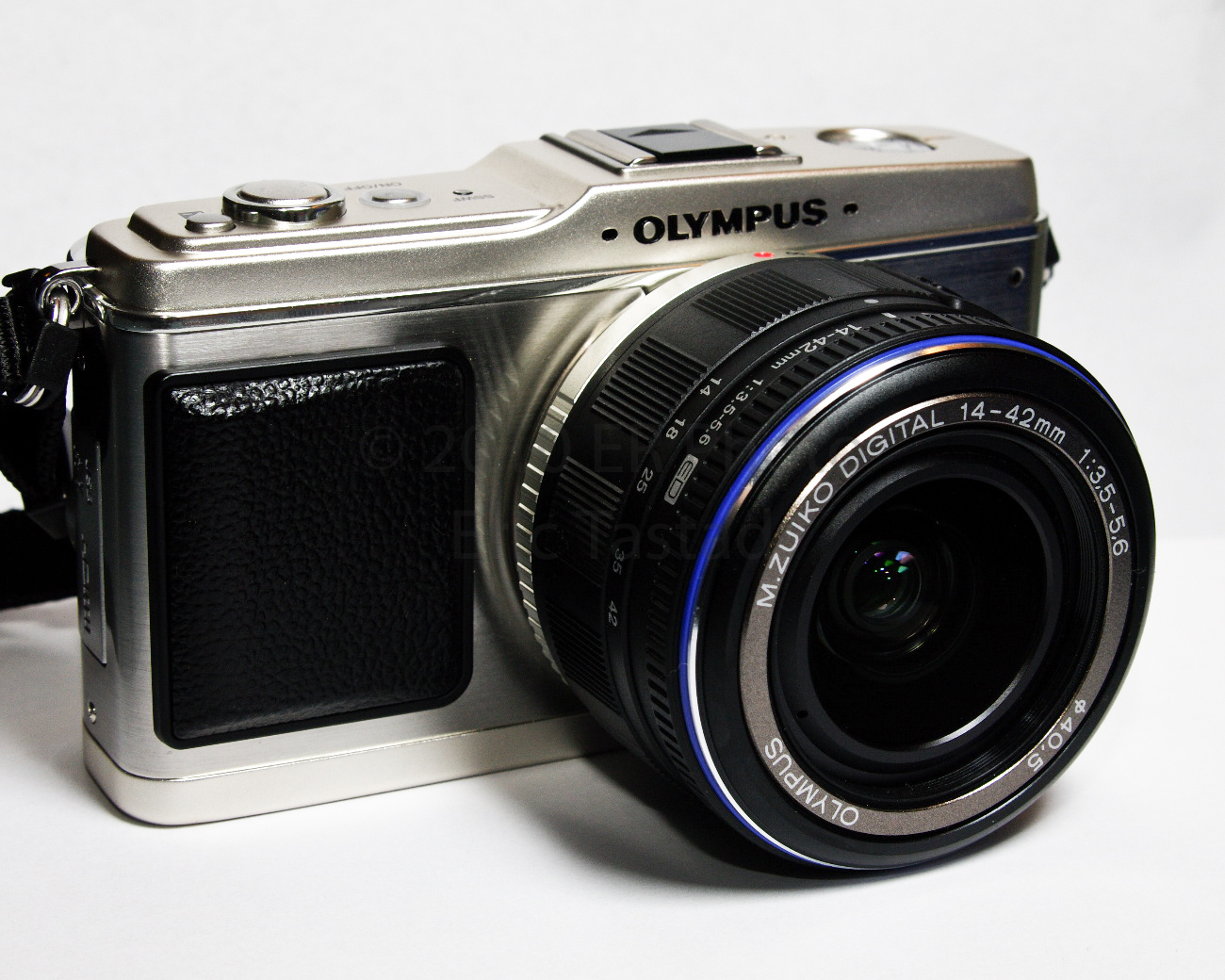 What good would a nice compact EVF camera like the Olympus E-P1 be without a compact zoom lens to keep it company? The M.Zuiko ED 14-42mm f/3.5-5.6
for Micro Four Thirds (MFT) is exactly that.

Handling and Construction
The lens contains a novel feature. When not in use it stores away into a space about the size of a 50mm f/1.8, but with the turn of the zoom ring it extends out to about the length of a normal 18-55mm kit lens that other cameras would use. To retract it back in for storage, you turn to 14mm and slide and hold the lock and continue turning past 14mm until the lens clicks back into place. The process is easy and takes only a short amount of time. The owners manual states to do this with the power off.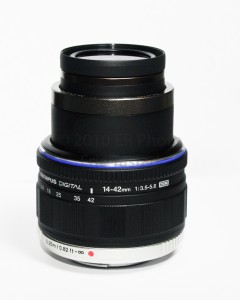 The build quality of the lens isn't quite up to that of the E-P1. There is a slight amount of wobble in the front element when the lens is fully extended, but in my copy it isn't significant. I also question how long the zoom and storage mechanism will last under heavy use. Overall feel of the lens is fine, and as expected considering the price of the lens.
The manual focus ring works well, but it is focus-by-wire so there is no mechanical linkage between the focus ring and the focus group in the lens body. The focus ring provides input to the electronics, which in turn drive the AF motor. This works well most of the time, but trying to focus bracket my shots for lens testing was a bit awkward. Sometimes the lens would focus in nice small steps, but sometimes the lens would jump past where I wanted it or not advance at all when it was still showing the preview picture. I never knew what exactly it was doing. This shouldn't be an issue in the field where you focus and leave it in one spot.
The optical construction of the lens is 9 elements in 8 groups with 2 aspherical lenses, one HR (high refractive) lens, and one ED (extra low dispersion) lens. ED lenses reduce light dispersing, or separating into separate colors causing color fringes visible on edges. HR glass is used to make the lens smaller. Basically, these fancy lens elements allow a better degree of correction with fewer elements, and fewer lens elements means less light loss at each lens surface.
The lens has a reasonably close minimum focus distance of 0.25m that provides roughly 1:4 magnification. The lens also has 7 rounded aperture blades to help produce smoother bokeh. It weighs in at a meager 150 grams.
Continue reading for test charts…