Sigma 30mm f/1.4 EX DC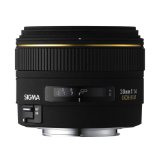 The Sigma 30mm f/1.4 is an interesting character.  It is the only lens of its kind for any of the common mounts.  For APS-C sensors it is very close to a standard lens with a focal length about the same as the sensor diagonal (28mm), and the f/1.4 max aperture is handy for those low light situations. How does this large aperture prime perform?
Construction quality is good.  On the Pentax mount it uses the screw drive focus instead of HSM used for other mounts.  It has a nice heft to it and everything works smoothly.
Size wise, it is a fairly large prime, but smaller than most zooms.  It has about the same physical dimensions as the kit 18-55mm zoom lens, but weighs significantly more.  However, given the f/1.4 aperture it is reasonably sized, and is noticeably smaller and lighter than most mid-level standard zooms like the Pentax DA 16-45m 17-70, or Sigma 17-70.  It is more compact than many of Sigma's other primes (like the 28mm f/1.8 and 50mm f/1.4) or zooms, as it doesn't use their standard 77mm filter thread body, and instead uses a 62mm thread size.
Handling
The lens is a joy to use.  Focus is quick and accurate with my K-7 with no focus adjustment.  It locks quickly and accurately in all lighting situations.  Occasionally it will focus confirm on an object completely out of focus, but this behavior can happen with any lens, and it is easily visible in the viewfinder.  Usually this only happens with a strong back light or low contrast object.  I usually just point the focus indicator to higher contrast edge or reduce the back light in the image and it focuses immediately.
My only complaint with the handling is the focus ring turns during auto focus operation.  The lens doesn't have manual override and it lacks a switch on the lens to disengage the focus ring.  The user needs to be aware of this and never grip the focus ring tightly during operation.  Manual focus is well damped, but a tad light.  However, it is above average for an AF lens.