Nifty 50 Shootout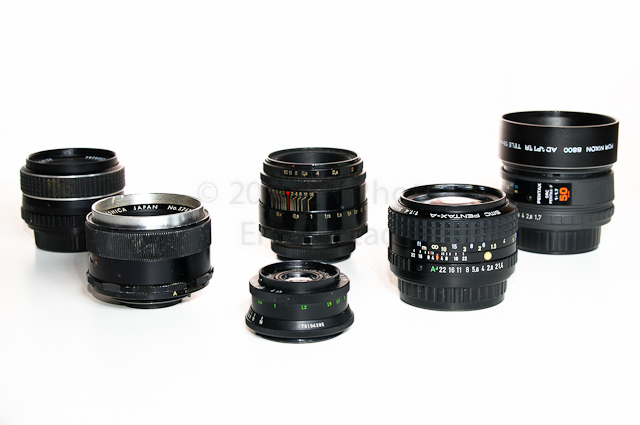 On film the 50mm was the standard lens. Nearly every camera came with one, and they can be had used for a dime a dozen. The question remains, which one is best?
A standard lens is one with a focal length roughly equal to the diagonal of the film or sensor used in the camera. This provides a fairly natural looking field of view with little magnification over what our eyes see. These lenses were common from 135 (35mm) film cameras with a film diagonal of 43mm. Most manufacturers used 50mm as their standard lenses because this focal length was easy to make inexpensively as it was also about the same focal length as the film to lens-mount distance.
Flash forward to digital and the APS-C format (a carryover from APS film), and there are a lot of existing 50mm lenses, but now we have a 1.5 or 1.6 crop factor and these have the same field of view as a 75mm used on a 135 format camera. They might not be quite as useful as a "standard" lens, but they still serve as an inexpensive way to get good image quality. The question remains, which one is the best? I will state right now, that most lenses in this class are adequate in most regards. There aren't many bad 50mm lenses out there, but some are certainly better.
Here is the list of the contenders. I will update this as I acquire more 50mm lenses.
SMC Pentax M 50mm f/4 Macro * NEW *
SMC Pentax A 50mm f/2 * NEW *
SMC Pentax A 50mm f/1.4
SMC Pentax F 50mm f/1.7
SMC Takumar 55mm f/1.8
Helios 44-2 58mm f/2
Yashinon DX 50mm f/1.7
Industar 50mm f/3.5
This comparison is only for the optical performance of the lenses as tested on a chart and using Imatest software to analyze the results. It doesn't include sample pictures or bokeh analysis. Lens test charts follow the short write-ups for each of the lenses.