Minolta MC Rokkor PF 58mm f/1.4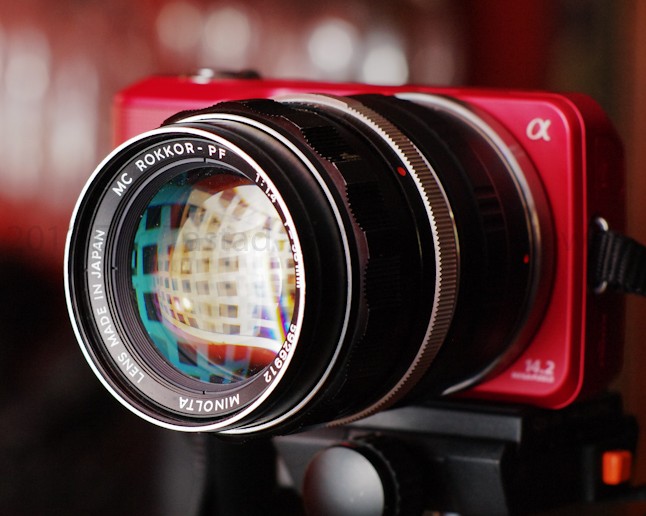 Old 50-58mm lenses were some of the most popular 35mm film camera lenses. They were a standard field of view, compact, and large aperture. Another popular focal length was 85mm, and all these old standard primes fill that void nicely on APS-C. The question remains, which ones are good?
The lens has a nice solid construction with smooth focus ring, nicely knurled aperture ring, 8 screws holding on the mount plate, slightly curved aperture blades, and is a fine lens overall. I think the silver visible on the aperture, front of the focus ring, and front of the lens barrel adds a nice finishing touch.
The PF designation indicates 6 elements in 5 groups. Mine weighs in at 290g (10.2oz) without hood or caps. This lens has at least a few layers of coating. Minimum focus distance is 0.6m (2ft).
NEX 3 Optical Characteristics
NEX 3 MTF 50 (Sharpness)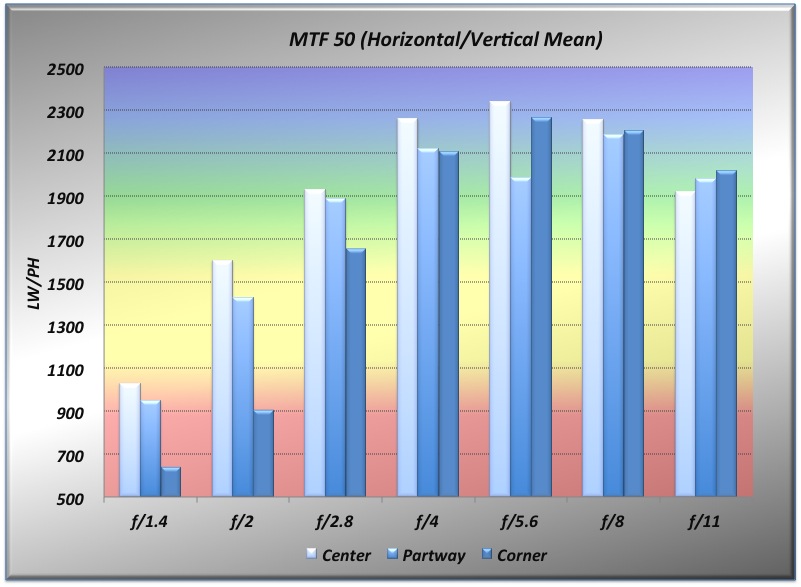 NEX 3 MTF 20 (Resolution)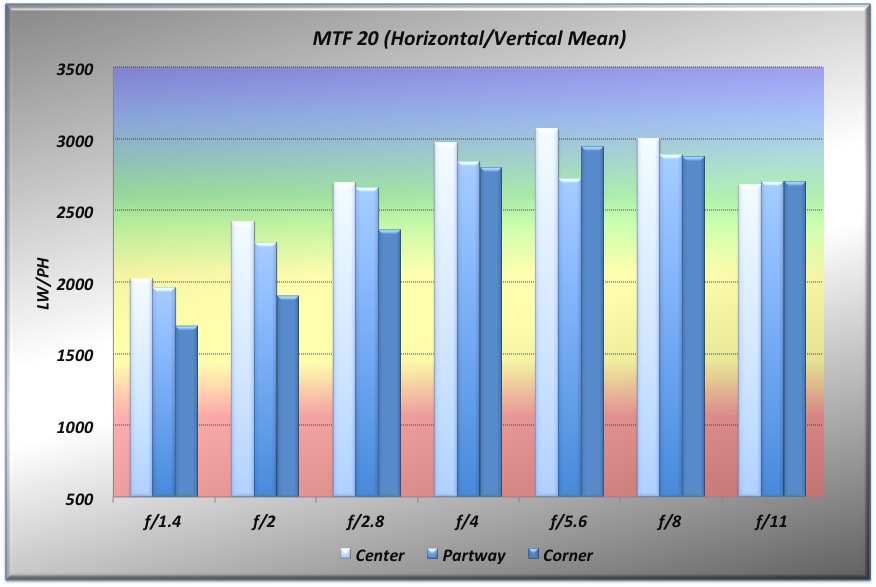 NEX 3 Lateral Chromatic Aberration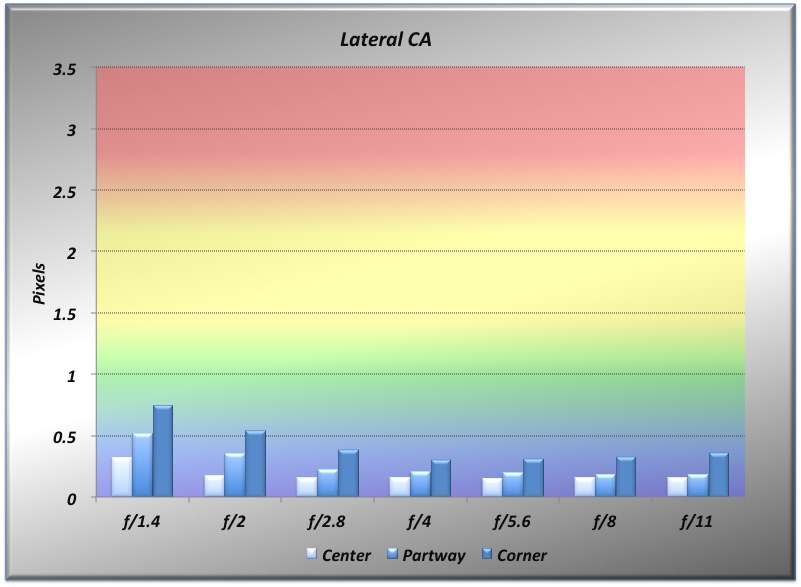 The lens has very minor barrel distortion of -0.29% (numeric average between all apertures), following shows the coefficients and a sample test chart.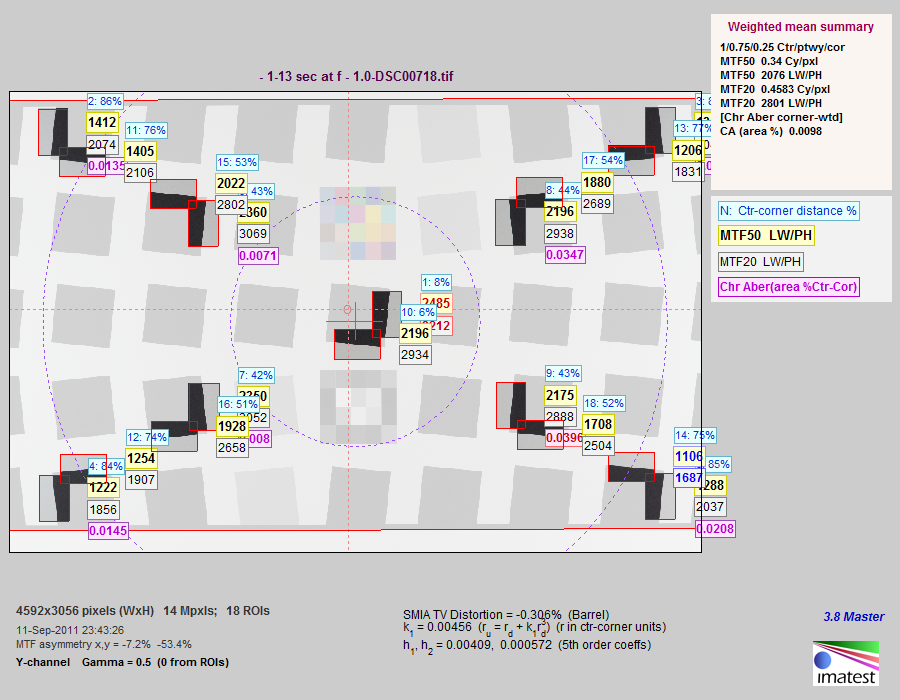 All data gathered using Imatest.
Conclusion
This lens is beautifully constructed, as most of the late 1960's early 1970's lenses were. However, this optical design doesn't quite deliver the stunningly crisp images at large apertures that digital users have come to expect.
However, step the lens down to f/2.8 and all the way through f/11, this lens leaves little to be desired. Distortion is low, and sharpness and resolution are high. Wide open the lens isn't terrible, but it just lacks contrast. The resolution is there, so with a little post processing work you should be able to improve f/1.4 results significantly.
The lens is very well corrected for lateral chromatic aberration as most older lenses were. With digital lateral CA can be removed fairly easily, not so with slide film. Longitudinal CA in the bokeh is typical for a large aperture short telephoto. It is slightly magenta in front and slightly green behind the focus point. Purple fringing is fairly minor for a large aperture prime, although high contrast transitions will show some.
Flare resistance: I will try to update later.
Distortion is a minor barrel distortion. Fairly easy to correct, and likely not an issue for most situations.
Pros:
– Well Corrected lateral CA and low distortion.
– Corner performance consistent with center performance.
Cons:
– Wide open sharpness
– Fairly dark at f/1.4, not much extra light than at f/2, not a full stop for sure.
Uses (sample):
– Corner to corner f/2.8-f/11
– Videography due to well corrected lateral CA and distortion
This lens was nice performing, but could have better sharpness wide open. Other similar focal length lenses were more appealing to me. I will try to get some bokeh samples and video samples to get a better feel for the lens. The lens isn't that different than other 50mm class lenses stopped down, which is why this lens doesn't really catch my attention.
If you like my review, you might shop for camera gear at Adorama.
The gallery images are © 2011 Eric Tastad, and may only be used for personal evaluation of the lenses. The images were exported straight from camera with my default LR3 settings for the NEX 3, which have some sharpening set since it is a fairly high resolution sensor and LR tends to under sharpen.
Bokeh Test Wide Open