Vivitar 55mm f/2.8 Macro (Komine)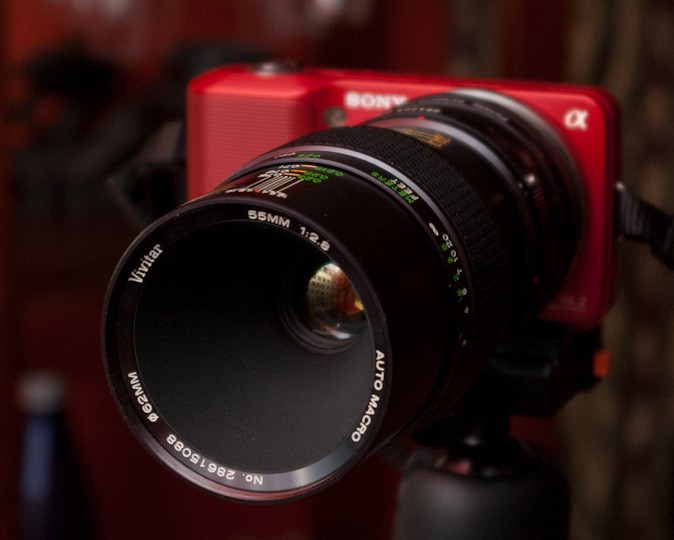 There are several 50mm Macro lenses available from 35mm film days, how does the old Vivitar 55mm f/2.8 stack up?
This lens is a serial number 28x Vivitar, which means it was made by the lens maker Komine. The lens is rather large due to the 1:1 focusing mechanism, but at the same time the extra length in front of the glass elements acts as a nice hood for the lens, so no external hood is necessary.
I am unsure of the optical formula of this lens. It has 62mm filter threads, and is fairly heavy for the aperture size, mine weighs in at 340g (12 oz) without hood or caps in Konica AR mount. Minimum focus distance is 0.215m (8.5 in), and the has 1:1 magnification. Measured focal length was 56mm at a magnification ratio of about 1:54. Remember that I am photographing a normal subject chart, not a 1:1 chart so performance could differ for macro subjects.
NEX 3 Optical Characteristics
NEX 3 MTF 50 (Sharpness)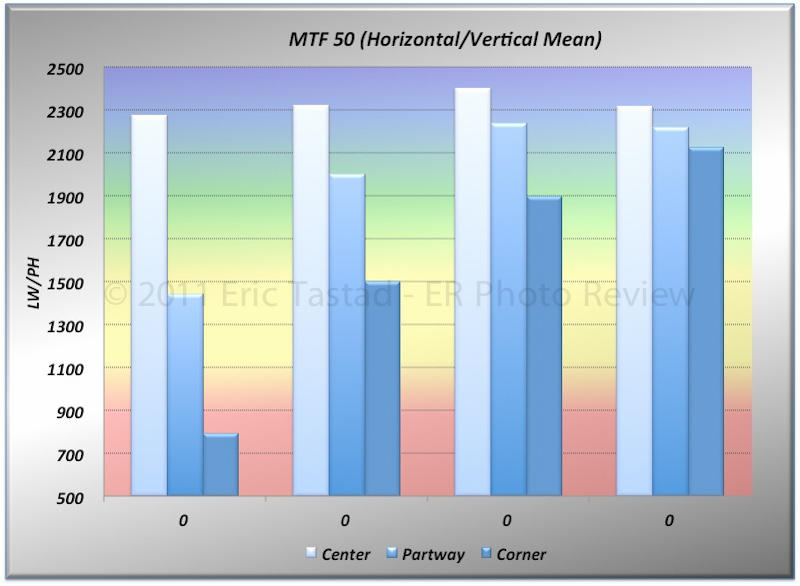 Missing X axis: f/2.8, f/4, f/5.6, f/8
NEX 3 MTF 20 (Resolution)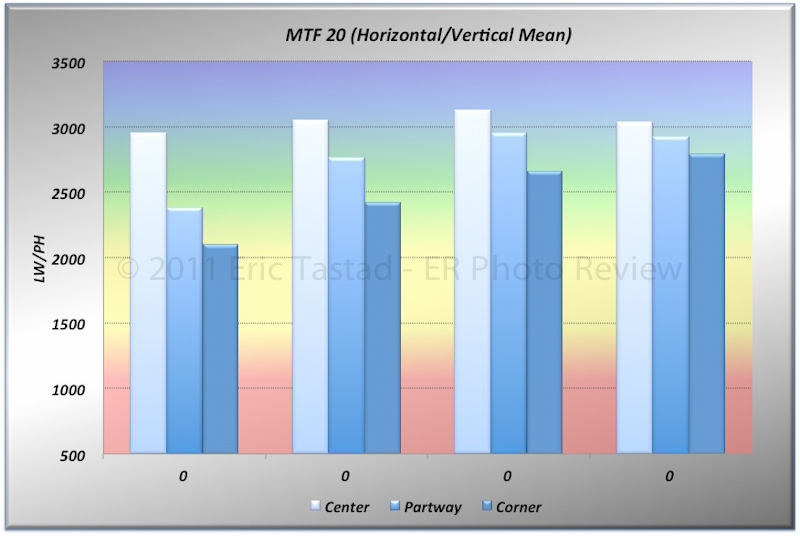 Missing X axis: f/2.8, f/4, f/5.6, f/8
NEX 3 Lateral Chromatic Aberration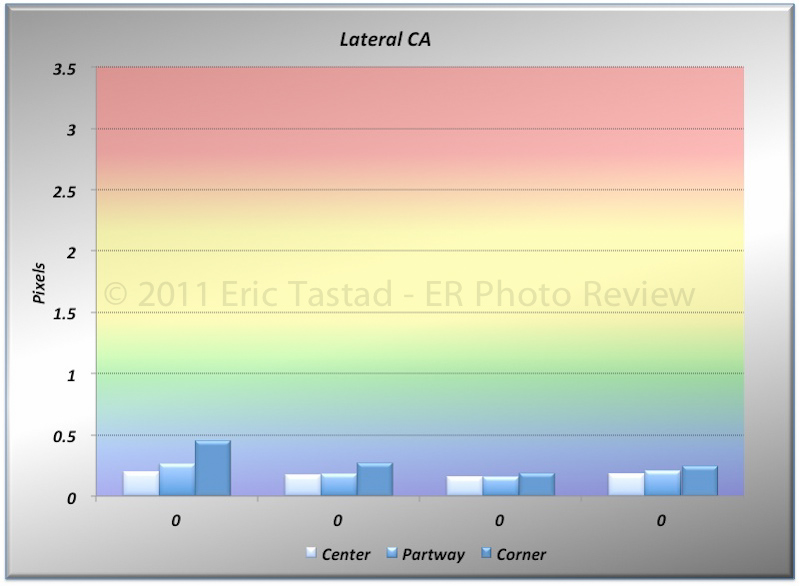 Missing X axis: f/2.8, f/4, f/5.6, f/8
The lens has negligible barrel distortion of -0.08% (numeric average between all apertures), following shows the coefficients and a sample test chart.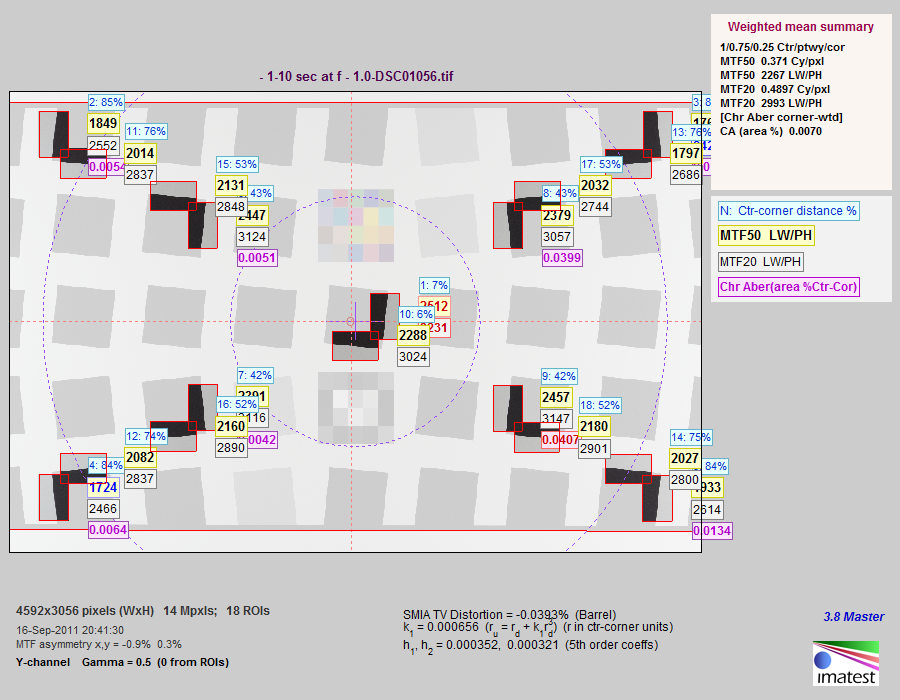 All data gathered using Imatest.
Conclusion
This Vivitar is a cult classic. It is a good value macro lens for those looking at getting into macro photography. It comes under various names like Panagor, and others. If you can't find the Vivitar version, look for one of the other brand names. The same lens also comes in a 90 (1:1) and 135mm (1:2) version.
The lens has very strong center performance wide open and remains strong through f/8. Sharpness drops off quickly towards the corners wide open, but the lens still has decent resolution and the corners pick up quickly, being good by f/4.
The lens has negligible lateral CA at all apertures. Longitudinal CA in the bokeh is present, but minor wide open, and nearly negligible at f/5.6 at 1:1 magnification.
Flare resistance will be updated after a field shoot.
Distortion is negligible.
Pros:
– Sharp Center at all apertures.
– Corners around f/4 and up.
Cons:
– Big clunky lens if you don't need macro.
– Corners at f/2.8
Uses (sample):
– General Macro
– General Short Telephoto
The lens performs well enough in the center at all apertures and the corners improve stopping down. However, I should point out that the lens doesn't perform any better over the same aperture range as most standard 50mm f/1.4 or f/1.8 lenses, other than for distortion and CA (which is what a macro lens is designed for). If you don't need macro focal distances, I would just go with one of the other 50mm lenses that will be a better deal.
If you like my review, you might shop for camera gear at Adorama.
The gallery images are © 2011 Eric Tastad, and may only be used for personal evaluation of the lenses. The images were exported straight from camera with my default LR3 settings for the NEX 3, which have some sharpening set since it is a fairly high resolution sensor and LR tends to under sharpen.
All samples hand held.